Windows 11's Paint app is set for some major upgrades which have been seen coming through in testing right now.
And when we say major changes, we really mean big new avenues of exploration for Microsoft, the most tantalizing of which is the introduction of a layers feature for Paint compositions.
This new addition was revealed in a blog post that notes the Paint app in the Canary and Dev testing channels now has the feature (version 11.2308.18.0 or higher).
Layers mean you can use multiple layers in one image, with different elements placed in different layers. Those layers can be shown or hidden, worked on separately, and indeed merged together if needed, for a more flexible and advanced way of editing any given image.
There's a Layer button in the Paint app's toolbar, and you can work with the feature by clicking it (whereby a side panel pops up showing the different layers that you add).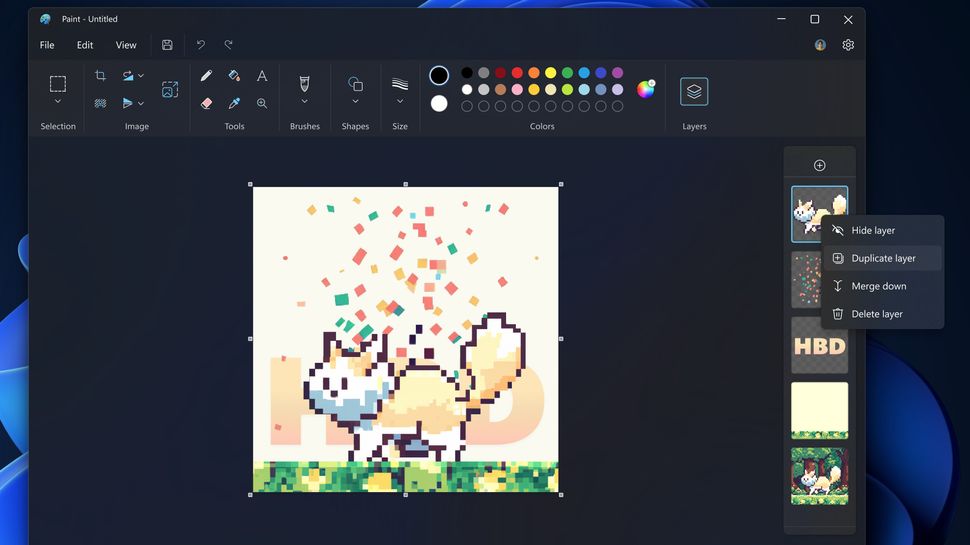 A new transparency effect has been brought in, too, with a checkboard pattern representing parts of an image that are transparent. Paint will also let you open (and save out) transparent PNG image files.
Here's another big introduction for Paint, too: as spotted by PhantomOfEarth on X (formerly Twitter), that same new version of the app has hidden strings pertaining to an AI-powered image generation feature.
The latest Paint app update in Dev/Canary (11.2308.18.0) includes strings for a new image generation feature:CocreatorDescribe what you'd like to createTry "a cat walking in a wood" or "A house made out of leaves"Choose a styleSeptember 18, 2023
See more
In short, the idea is that Paint will be bolstered with Dall-E image creation chops in a feature apparently called 'Cocreator' which allows you to describe an image and have it composed for you (including specifying art styles).
---
Analysis: Hacks become a reality…
If that AI-powered image creation functionality sounds familiar, it's because this is already in the armory of Bing AI, so it's nothing new as such – and it isn't really a big surprise to see Microsoft pull it over to Paint.
Well, okay, maybe it's a little bit of a surprise in terms of Paint getting fleshed out considerably more than we ever thought it would, with the introduction of layers certainly coming out of left field.
In fairness, the ability to work with layers is something that has been hacked into Paint in the past, and that did prompt a whole lot of badgering of Microsoft about why it wouldn't officially introduce the capability.
So, fair play to Microsoft, the software giant has listened and is doing just that – assuming that the layers and transparency elements make it through testing to the release version of Paint (which seems very likely).
Maybe we'll see other hacks become official Paint features – you may recall that simple animations were also unofficially introduced to Microsoft's creative app in the past.
Paint has certainly come a long way in the past half a decade or so, given that there was chatter about Microsoft considering canning the software back in 2017, if you remember. How things have changed for the better…
You might also like


Read the full article here