Back on September 1, I was able to get my hands on Lenovo's Legion Go, another entry in the emerging PC handheld market, and tested out its chops with several of the best PC games. 
After trying out the likes of HiFi Rush and PowerWash Simulator among others, my admittedly meager expectations had been completely and thoroughly blown into the stratosphere.
Not only did the Legion Go itself feel comfortable and intuitive to use, but it also came with some impressive specs and features that immediately set it apart from the Asus ROG Ally, a fellow competitor in the market, as well as the originator of said PC handheld market, the Valve Steam Deck.
Now that I've had time to ruminate on the Legion Go properly, my excitement for the system hasn't waned one single bit. In fact, barring some unforeseen major issues that only surface after extensive benchmarking, I can confidently say that this handheld could not only be a true Steam Deck killer, but is already shaping up to be a better one than the ROG Ally.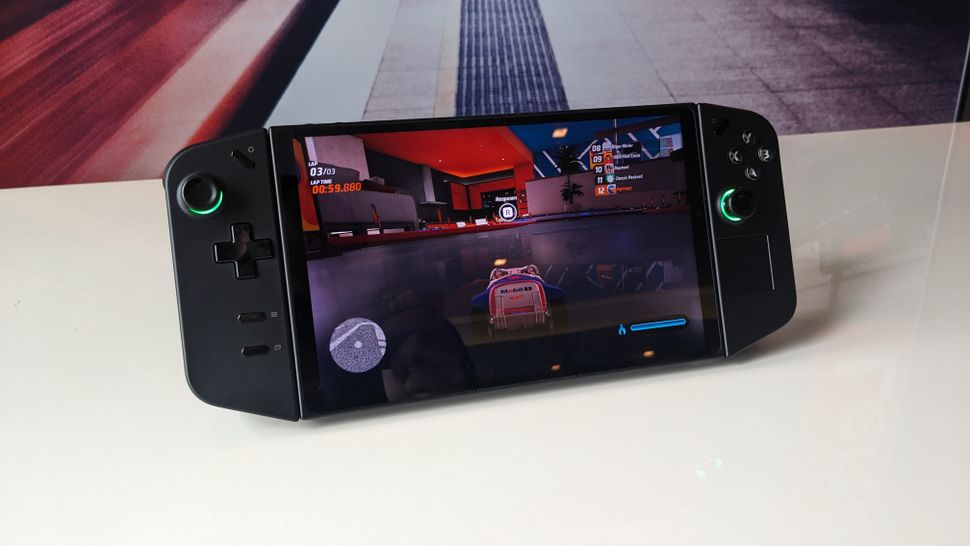 Bigger, better screen 
The most obvious and immediate difference between the Lenovo Legion Go and Asus ROG Ally is its display sizes. The Legion Go boasts an 8.8-inch IPS touch display at a 16:10 aspect ratio, a 2560×1600 resolution, 500 nits brightness, an excellent 144Hz refresh rate, and a claim of 97% of the DCI-P3 color gamut. 
Meanwhile, the ROG Ally features a 7-inch IPS touch display, a lower 1920×1080 resolution, a slower 120Hz refresh rate, and 80% of the DCI-P3 color gamut.
There are benefits to having a lower display resolution, mainly that it can be ideal for playing titles at higher settings and helps make the device easier to handle. However, according to other ROG Ally reviews the framerate suffers at 1080p and often needs to be lowered to 720p for more demanding titles to smooth out. The Steam Deck is only able to surpass the ROG Ally with a third-party replacement for the built-in LCD panel called the DeckHD.
Since the Legion Go starts off at an even higher resolution, the best-case scenario means that the resolution will be QHD+ with a stable framerate. Even the worst-case scenario would still land a victory for Lenovo's handheld as an excellent framerate with 1080p resolution is still far superior to what the ROG Ally is capable of.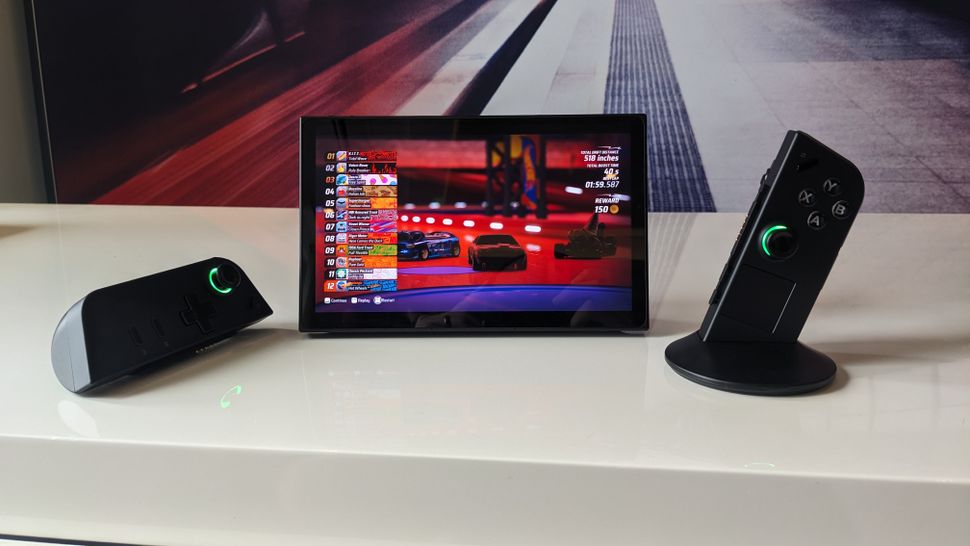 Way more quality-of-life features 
Another clear advantage the Legion Go has over the ROG Ally and Steam Deck is its sheer number of quality-of-life features. Taking a page from the highly successful Nintendo Switch handheld, you can detach the controllers from each side of the screen and use them as separate joysticks.
There's also a brilliant FPS mode that's activated by first pressing a button on one of the detached joysticks, and then propping it up on an included platform. You can play any first or third-person title with nearly the same pin-point accuracy as a mouse, with all the added customizable button action that comes with an expensive gaming mouse.
What's even better is the built-in kickstand in the back of the Legion Go, which gives you even more options on how to play. You can keep the controllers attached to your system and use the kickstand to play on a table, keeping you from having to hold an otherwise heavy device for long gaming sessions. 
If you decide to detach and use the controllers as joysticks, there's no need for a separate stand or dock like the ROG Ally or Steam Deck requires, as the kickstand handles that. Finally, when playing in FPS mode, you simply prop up the screen with said kickstand and it's like using one of the best gaming monitors with one of the best budget gaming PCs.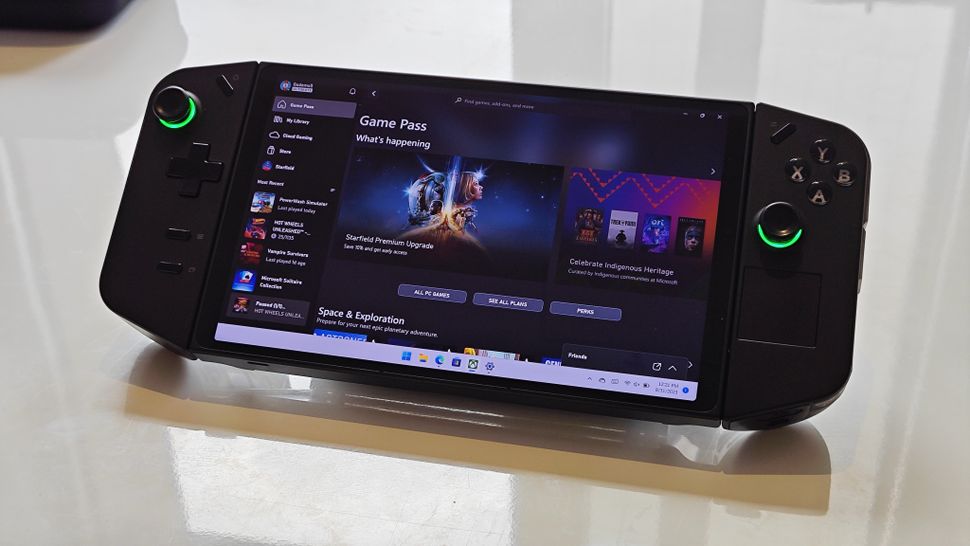 Windows OS is just better on the Legion Go
Both the ROG Ally and Legion Go use Windows, though the former also uses Armory Crate to manage gaming libraries while the latter allows you to directly access your library through either the desktop itself or through an installed storefront.
I couldn't help but notice that the Legion Go's version of Windows 11 was better optimized, running just about as well as the OS would on a tablet. The taskbar disappears when playing a game but reappears seamlessly when I flick the screen upwards. It worked perfectly with both direct touchscreen operation as well as using the haptic touchpad, another features missing from the ROG Ally. 
It was also thanks to the well-optimized OS that I could even switch between different titles running simultaneously (though I wouldn't recommend making a habit of that).
Windows 11 on the ROG Ally feels clunky and awkward in comparison, so it's amazing how far a bit of fine-tuning can go and how much closer the Legion Go feels to the Steam Deck—especially since Valve uses an OS tailormade to its own system.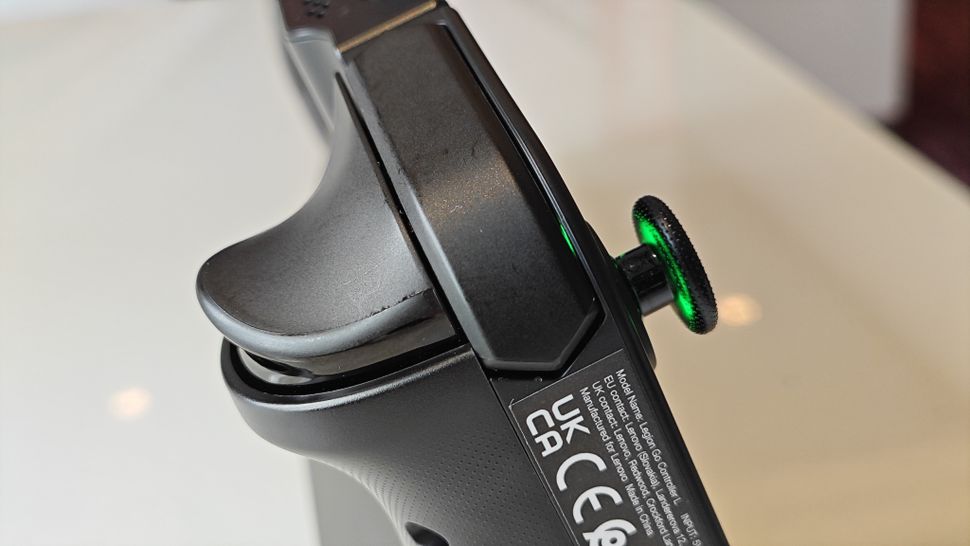 Final thoughts 
There are plenty of other points I could go on about that demonstrate how much more potential the Lenovo Legion Go has versus the Asus ROG Ally. Chief among these is a more robust set of features for the same price point, superior ventilation combined with the AMD Ryzen Z1 Extreme CPU and AMD RDNA Graphics GPU (the same internal specs as the ROG Ally) that could potentially get better long-term performance, the hall effect joysticks which Lenovo claims will ensure no joystick drift and minimal dead zones, and more.
But it's clear that Lenovo put its all into developing the ultimate Steam Deck rival and a potential slayer of Valve's popular handheld. By not being satisfied with making a product that's merely comparable to what Valve cooked up but one that addresses nearly every criticism and lacking feature, we have a PC handheld that truly pushes the limits of what can be achieved in the form factor.
Read the full article here