At a glance
Expert's Rating
Pros
The CPU and GPU power is impressive
The QHD+ display looks superb and is very smooth
The build quality is exceptional
Cons
The keys are quick but can sometimes feel a bit mushy
The audio sounds a bit flat at times
The top-tier configuration is quite pricey
Our Verdict
The 2023 Razer Blade 14 is powerful, portable and produces stunning visuals on its QHD+ 240Hz display. To be sure, if you're in the market for a premium, lightweight gaming laptop with lots of grunt, portability and versatility, the 2023 Razer Blade 14 is exactly that.
As if a portent of its worth, the 2023 Razer Blade 14 comes in a brand-new Mercury "silver" color as a new addition to the ubiquitous Black most gamers are familiar with. But while a fresh new lick of paint might be considered a gimmick in any rival, in Razer's newest Blade 14, precious silver seems entirely appropriate.
Once again Razer has produced a highly portable and powerful 14-inch gaming laptop. With its exceptional build quality, gorgeous QHD+ 240Hz display, long battery life and all the premium mod cons you could possibly want it's a class act in every respect. You'll just need a cool $2,799.99 to buy the best configuration. Read on to find out more.
Looking for more options? Be sure to check out PCWorld's roundup of the best gaming laptops available right now.
Razer Blade 14: Specifications
The 2023 Razer Blade 14 packs an AMD Ryzen 9 7940HS CPU and comes with a QHD+ 240Hz display with Windows Home 11 as standard. For $2,399.99 a base model ships with an RTX 4060 GPU, 1TB SSD and 16GB RAM in a back colored chassis. Alternatively, maxing out the hardware selection categories on Razer's website will land you a Razer Blade 14 with RTX 4070 GPU, 1TB SSD and 32GB RAM in a new Mercury color, for $2,799.99. The exact specifications of this review unit are as follows:
CPU: AMD Ryzen 9 7940HS
RAM: 32GB DDR5 / 5600 MHz
GPU: GeForce RTX 4070
Display: 14-inch QHD+ (2560 x 1600), 240Hz refresh rate, non-touch, 100 % DCI-P3 color gamut, anti-glare finish, 16:10 aspect ratio, AMD FreeSync Premium
Storage: 1TB PCIe Gen 4 SSD
Ports: 2 x USB-A 3.2, 2 x USB-C 3.2 Gen 2 (DisplayPort 1.4 and Power Delivery)
Networking: Wi-Fi 6E (802.11ax), Bluetooth 5.3
Weight: 4.05lbs (1.84Kg)
Dimensions: 0.70 x 8.97 x 12.23 inches
Battery: 68WHr
Price: $2,799.99 from Razer
Looking at 14-inch gaming laptops from other brands, and two main rivals to the 2023 Razer Blade 14 come in the form of the Asus ROG Zephyrus G14 and Alienware x14 R2.
A close configuration to our Razer Blade 14 in the Asus ROG Zephyrus G14 costs $2,499.99, however this laptop comes with an RTX 4080 GPU with a lower 125-watt TGP. Alternatively, you can currently purchase an Alienware x14 R2, with an Intel Core i7-13620 CPU and RTX 4060 GPU for $1,699.
Razer Blade 14: Design and build
You don't have to be a heavy metal fan to appreciate the Blade 14's new silver finish which is very close to that of the precious metal. It looks fresh and original, morphing the Blade 14 from its comfortable classic look into something braver – the kind of laptop you'd want to game all day on and then stay up late and watch the moonlight gleam off its pale surface. The new silver model also features an anodized anti-fingerprint coating, which is extremely good at keeping paw prints at bay.
Of course, a slick black Blade 14 option is also available in 2023. It's the one you'll want if you absolutely need a light-up Razer logo on the lid. The silver unit has an equally attractive, but slightly less pretentious, logo plastered on top that doesn't light up. Consequently, it will draw a lot less attention in work meetings. Strangely, though, the silver costs $400 more than black at the checkout.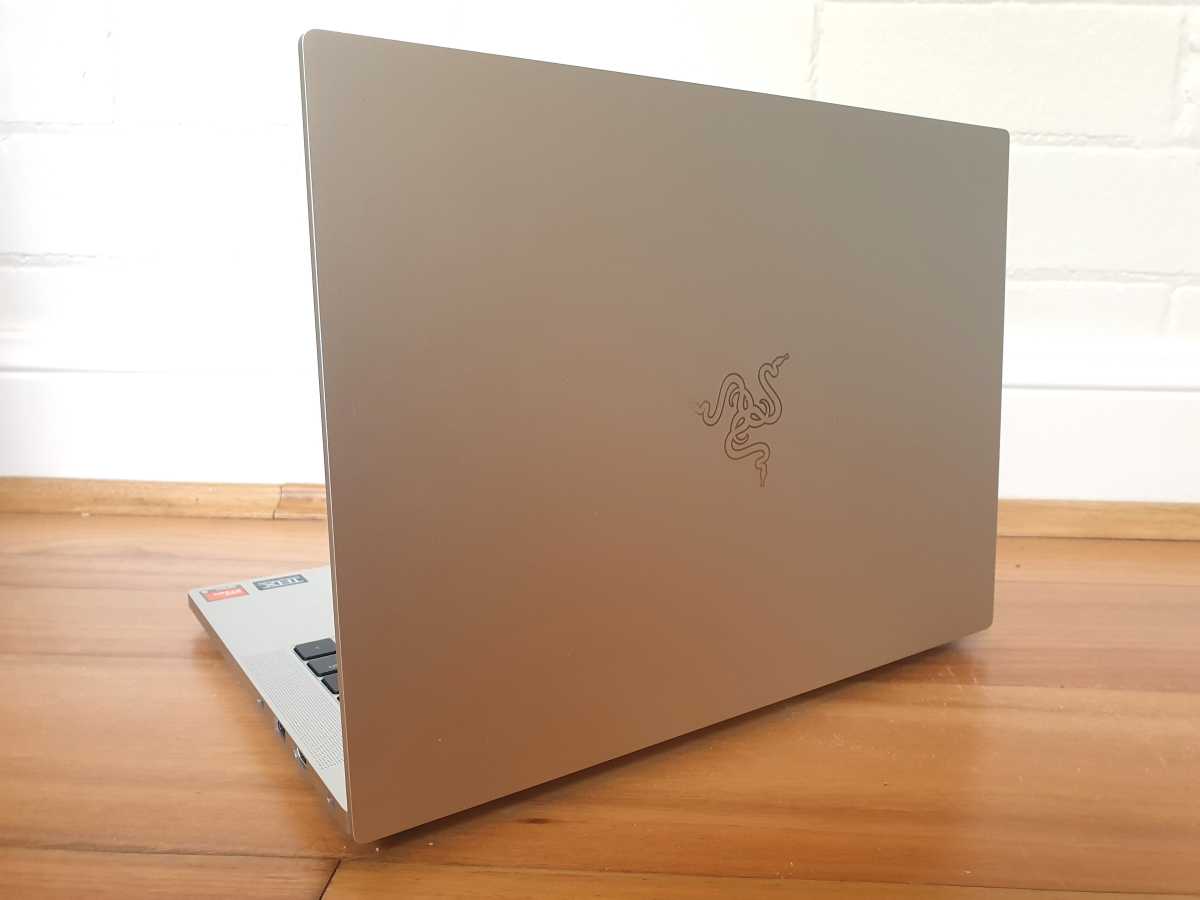 Dominic Bayley / IDG
Color aside, the Razer Blade 14 remains a highly portable 14-inch gaming laptop in 2023, its dimensions and weight being only very slightly different from the 2022 model. Notably the laptop's thickness has been bumped up from 0.66 inches to 0.77 inches, while a tiny jump of 2.4 ounces to a total weight of 4.05 pounds is an imperceptible weight change that won't rattle any cages. Personally, I was more than happy with the laptop's portability, considering the formidable graphics revamp – the Blade 14 now has an RTX 40 GPU with a whopping 140-watt maximum graphics power, which is no mean feat in a laptop of this size.
From a style viewpoint, the Blade 14 still exudes an efficient-looking shape and visage that most gamers will recognize at a second's glance. It sports round edges at the front, razer cut sides and ultra-thin left and right bezels flanking the display. Down below the display you'll find a stylish, but almost imperceptible, black-on-back logo emblazed into the lower bezel.
The build quality too is of the same exceptional standard that Razer laptops wear almost like a trademark these days. Its CNC-milled aluminum chassis feels monolithic in its solidness and the lid is impressively strong. The whole laptop demonstrates a flex-less rigidity that really deserves commendation.
Razer Blade 14: Keyboard, trackpad and audio
Getting keyboard dimensions just right can be a complex balancing act for manufacturers that place speaker grilles alongside the keyboard. Indeed, some opt out of doing so altogether to maximize space, instead choosing to locate the speakers on the underside.
Going with the former option, Razer's gamble has really paid off, the keyboard still feels nice and roomy, while the upward facing speakers produce an alarmingly clear sound for a 14-inch laptop.
Although, you'd be forgiven for mistaking clarity for an exceptional tonal range; like a lot of 14-inch laptops, the Blade 14's range is just passable, not impressive. It tends to favor the lower mid tones over the highs or low tones, so it can sometimes sound a little flat.
The laptop's spatial audio support, on the other hand, is excellent. It comes courtesy of THX Spatial Audio, which benefits from Razer's in-depth Synapse app, which even lets you adjust the directionality of your sound.
Analyzing the keyboard, and the Blade 14's key layout is the standard kind you'd find in a laptop this size, in that it includes Function keys, but omits a numpad. The keys have a low travel and can sometimes feel a little mushy, but the upside to that is they're astoundingly fast for typing.
Dominic Bayley / IDG
But the real treat here is the RGB lighting. The individually lit Razer Chroma RGB keys are incredibly sharp and yet at their highest brightness setting there's no discernable light bleed. You also get a palate of 16.8 million RGB colors to play with which opens up a treasure trove of possibilities for personalizing your favorite macros and commands.
The Blade 14's trackpad is also a class act. It's quite large, measuring a whole 6 inches (15 cm) – the kind you're more likely to see in 15-inch laptops. I'm yet to experience a quicker, smoother surface in any rivals Razer's precision glass being the closest thing to a fast but controllable trackpad I've used.
Razer Blade 14: Display and webcam
Just hypothetically, if the 2023 Blade 14 was lost to the sands of time and dug up by a technologically advanced civilization, they'd almost certainly be well impressed by the quality of its display. It has a rich and varied color profile and an exceptional level of brightness and contrast.
Indeed, the gorgeous panel in front of me was proof in the pudding; the panel's tall 16:10 aspect ratio ensured that I had a large viewing area to enjoy my games and videos, while the display's 2,560 by 1,600 pixel resolution meant they always looked incredibly sharp – with a detail that would make the developers and cinematographers proud to show off their work.
That's not unusual in a 2023 gaming laptop with a QHD+ panel. But what is, is the smoothness of the motion on show. To that end, the Razer's panel benefits from three technologies: a 240Hz refresh rate, 3 ms response time and AMD FreeSync Premium, which together act to keep motion stutter free and without screen tear.
Dominic Bayley / IDG
Another highlight worth mentioning is the panel's anti-glare coating, which I found did a great job reducing light reflections even in direct sunlight. It's yet another feature that adds to the Blade 14's portability appeal.
The Blade 14 also sports an unobtrusive 1080p webcam in the top bezel. It's rare to see a FHD webcam in a gaming laptop, which makes it a little more work friendly. The camera produces crisp and natural–looking images with a distinct lack of graininess, or the distorted kind of artificial neon color you often see in cheaper ones. That said, it's just ideal for videoconferencing.
Razer has also intelligently included a privacy shutter and Windows Hello support for the webcam, so you can securely use it for important work meetings if you don't feel like flipping the lid on your work-issued laptop.
Razer Blade 14: Connectivity and upgradability
With a mix of USB-A and USB-C ports as well as a HDMI 2.1 port, the Blade 14 is well equipped to host a collection of your gaming peripherals; to stream videos externally, or even livestream on the fly. Multi monitor setups are made possible by the two USB-C Type 4 ports which support the display 1.4 protocol.
As you'll see in the performance section, this particular configuration proved well suited for running heavy programs, but should you want to push the laptop's upper limits, the Blade 14 is upgradable to a maximum of 64 GB DDR 5 RAM operating at a clock speed of 5600 MHz – that's one of the fastest RAMs you can get. Additionally, storage can be upgraded to a maximum 4TB dual-sided SSD, if carrying an external SSD is not something you want to do.
Razer Blade 14: CPU performance
Breaking down the AMD Ryzen 9 7940HS CPU's specs, and this processor has 8 cores and 16 Threads. It also utilizes a total of 16GB of L3 cache. The processor's performance has been compared to Intel's Core i7-13700H CPU, although since the Ryzen CPU has a slightly higher maximum boost speed (5.2GHz versus 5.0GHz), theoretically it should have the edge over Intel's closest silicon.
Running our usual PCWorld benchmarks against a handpicked selection of high-performance gaming laptops and the Blade 14 showed promising CPU performance for both gaming and productivity tasks. Those tests included Maxon's Cinebench R20 Multi-Threaded benchmark and a bespoke test we made especially for the HandBrake utility app.
Maxon's Cinebench R20 benchmark uses the 4DCinema engine to render a test image on the laptop's display, with the result indicative of how well the laptop runs stable on a high-CPU load. The HandBrake test on the other hand, puts our review laptop to work encoding a 30GB MKV file to MP4 using the Android tablet preset. A shorter duration is considered a better result.
Comparison laptops were selected from a vanguard of gaming laptop reviews. They were all laptops with CPUs that have proven performance chops for high-end gaming, including the 2023 Razer Blade 16 which features a Core i9-13950HX CPU, and the Asus ROG Zephyrus Duo 16 with an AMD Ryzen 9 6900HX processor.
In the Cinebench R20 Multi-Threaded benchmark the Razer Blade 14 achieved a score of 6,085. Its zippy Ryzen 9 7940HS proved too quick for the Dell XPS 15's Core i7-13700H CPU as well as the Asus ROG Zephyrus Duo 16's Ryzen 9 6900HX.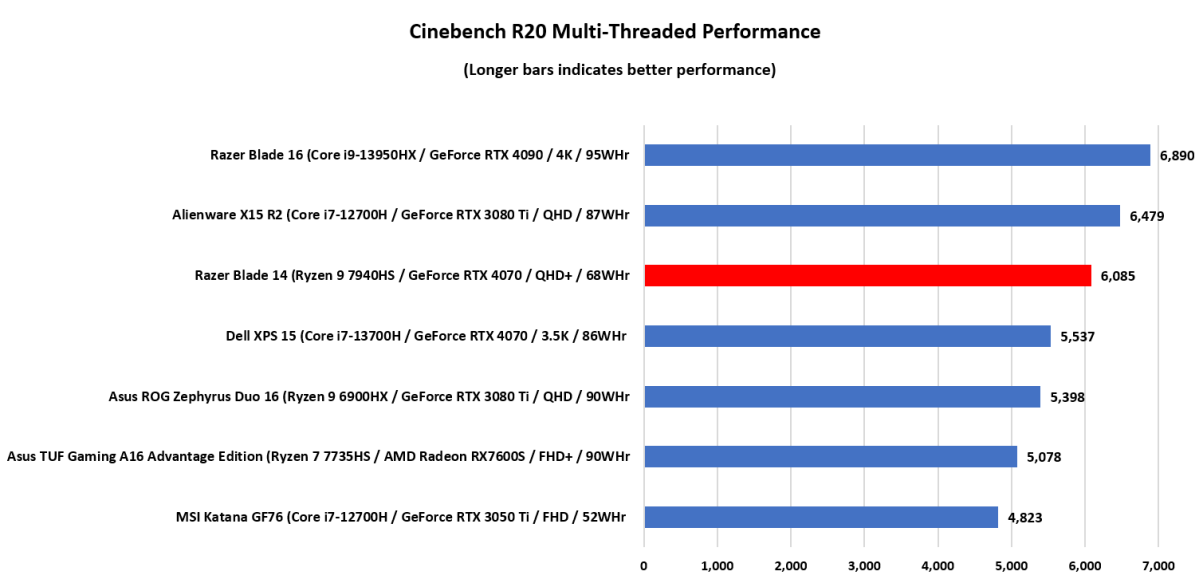 Dominic Bayley / IDG
Ultimately this result shows that despite its small stature, the Razer Blade 14 will perform admirably in a range of demanding CPU tasks that require all or multiple cores of its CPU, including but not exclusively AAA games.
Moving to the results of the HandBrake test and as you can see in the graph below the Razer Blade 14 almost topped the chart, beating out a strong field of 4 other laptops. Amazingly, the Blade 14 even finished the task in the same time as its larger Razer stablemate the Razer Blade 16.
Dominic Bayley / IDG
From this last result we can extrapolate that the Blade 14 has lasting processing power; when faced with a CPU-intensive task and the laptop starts to heat up, it can keep on computing without having to throttle performance. On the contrary, it finishes tasks quickly and efficiently.
While the Razer Blade 14's time of 939 is a far cry from the very top scoring laptop in our archives, the Asus ROG Strix 18, considering it lacks the thermal headroom that thicker and larger laptops have, this is an excellent result that once again solidifies the Razer as a pint-sized powerhouse. It demonstrates the kind of performance that will undoubtedly impress owners of larger and more powerful laptop configurations in 2023.
Razer Blade 14: Gaming performance
The Nvidia's GeForce RTX 4070 discrete mobile GPU in my review unit has already proven to be no slouch in 2023 PCWorld benchmarks. Razer says this GPU, tuned to an impressive 140-watts Total Graphics Power (TGP), achieves a 33 percent boost in graphics power in the 2023 Blade 14 over previous generation Razer Blade 14 models.
With that in mind PCWorld's archival benchmark results for the 2021 Razer Blade 14 model proved a useful comparison to weigh up graphics performance improvements, with my expectation being that I'd see much higher average framerates in our gaming benchmarks and higher 3DMark performance score in the newer model once the graphs were completed.
Running the 3DMark Time Spy benchmark placed the Razer Blade 14 in front of most of the comparison laptops, including three sporting step-down RTX 4060 GPUs – a placement that looks to be fitting.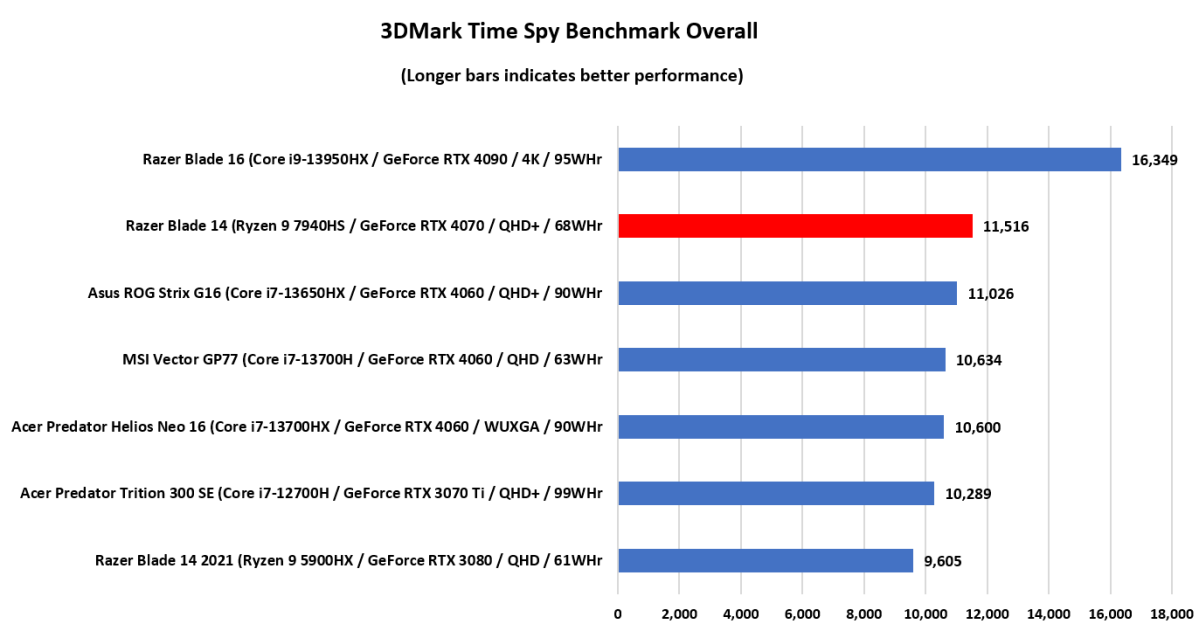 Dominic Bayley / IDG
On to our gaming benchmarks, and in the Rise of the Tomb Raider benchmark the Razer Blade 14 averaged a respectable 127 frames per second. That's a good deal quicker than the 2021 Razer Blade 14. The 2023 Blade 14 also outpaced some of our other recent standout performers in this benchmark, like the Acer Predator Helios Neo 16.
Dominic Bayley / IDG
The results of the Shadow of the Tomb Raider gaming benchmark tell a similar story. Again, the Blade 14 thumped its 2021 predecessor for average frames per second. Note that the majority of laptops with RTX 4060 GPUs also couldn't quite reach the Blade 14's higher average framerate score.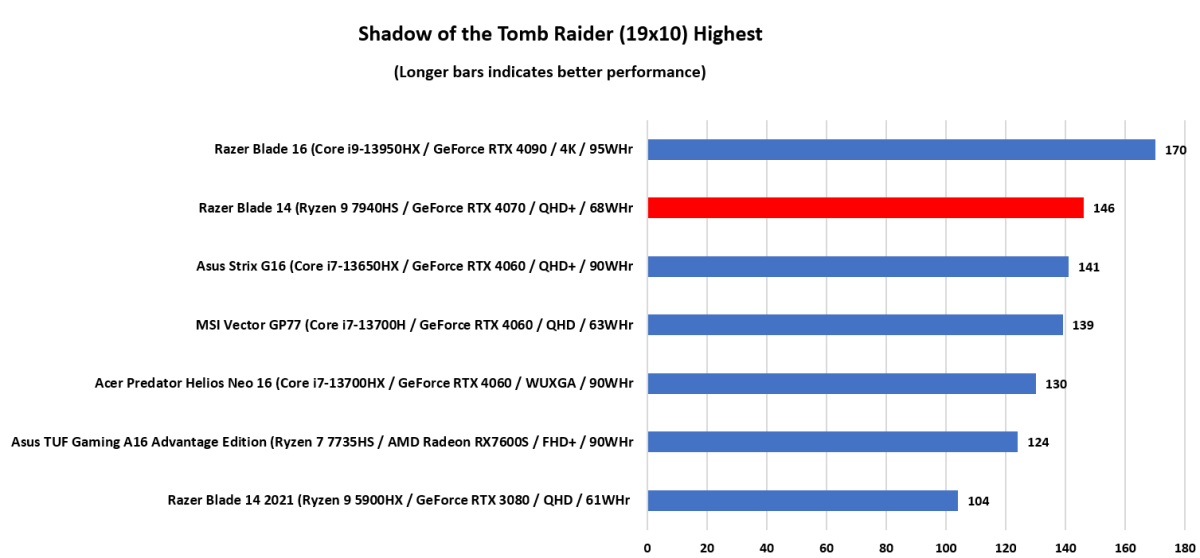 Dominic Bayley / IDG
These results prove Razer's claims to be accurate, that the 2023 Razer Blade 14 enjoys a marked graphics performance advantage over predecessor models – at least for the 2021 Blade 14 we reviewed. That's even despite the older model sporting one of last year's bet video cards – a premium RTX 3080 GPU. More importantly they also show the RTX 4070 to be an excellent choice in this laptop, which does a great job in harnessing the GPU's impressive power.
Razer Blade 14: Battery performance
To test battery life, I charged the laptop's 68WHr battery and unplugged the power cord when it reached full capacity. The keyboard backlighting was switched off, and a cheap pair of headphones plugged in to keep sound to a minimum. I also switched the Wi-Fi to Airplane Mode. Last but not least, I set a 4K Hollywood movie on repeat and began timing how long it took for the Blade 14's battery to run out of juice.
The Razer Blade 14 lasted for 9 hours and 28 minutes before switching itself to Standby Mode. This is a considerably long time for a gaming laptop; most only last 4 to 5 hours on the same task – if that.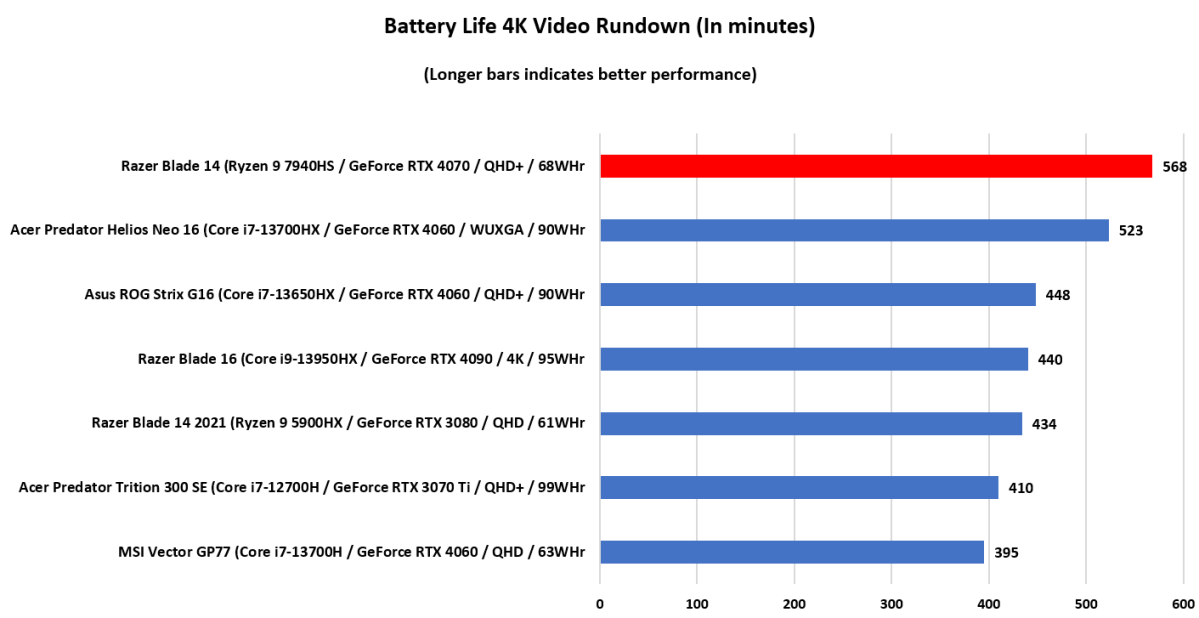 Dominic Bayley / IDG
Mind you, our PCWorld test is quite light-on when it comes to power drain. In a gaming scenario, you can expect the laptop to last approximately 6 hours, which is still almost double what most laptops can achieve.
This exceptional battery life scores the Blade 14 another big tick from me. Not only does it have enough power to play the most demanding titles in my Steam library with decent framerates, but I can play them for longer unplugged from an AC outlet. It's just another reason this laptop is a highly portable and versatile device.
Razer Blade 14: Should you buy it?
The 2023 Razer Blade 14 is proof you don't need a giant beast of a laptop with a brick the size of a suitcase for an exceptional gaming experience. In just a 14-inch chassis, you have a laptop that has a gorgeous-looking and large QHD+ 240Hz 16:10 display, and respectable CPU and GPU performance, and yet it's small and lightweight enough to go anywhere you go. It also has a fantastic battery life so you can play longer without interruption.
Admittedly, it's not cheap, but compared to what you'd pay for some larger premium 16-inch laptops, approximately $4,000, $2,799.99 doesn't seem that bad. For that reason and its excellent portability and versatility, the 2023 Razer Blade 14 is a class act that I for one would be very happy to own.