Google is officially rolling out ChromeOS 117 to a Chromebook near you. With this update, the tech giant is blurring the lines between Chromebooks and Androids as the former now adopts a Material You redesign.
The system isn't getting a total rework as the patch only affects certain areas like the Quick Settings menu. On there, you'll see items are now encased in large rounded rectangles instead of circles. There are buttons for activating Wi-Fi, Bluetooth, and Cast Screen among other things. Google states in its announcement post that it strived to have "less pagination" by putting everything into one compact space. 
What you see in the new Quick Settings depends on the type of Chromebook you own plus what software is installed. For example, on 9To5Google's report, there's an entry for a VPN. On our Chromebook Spin 714, there was an option for the Accessibility features.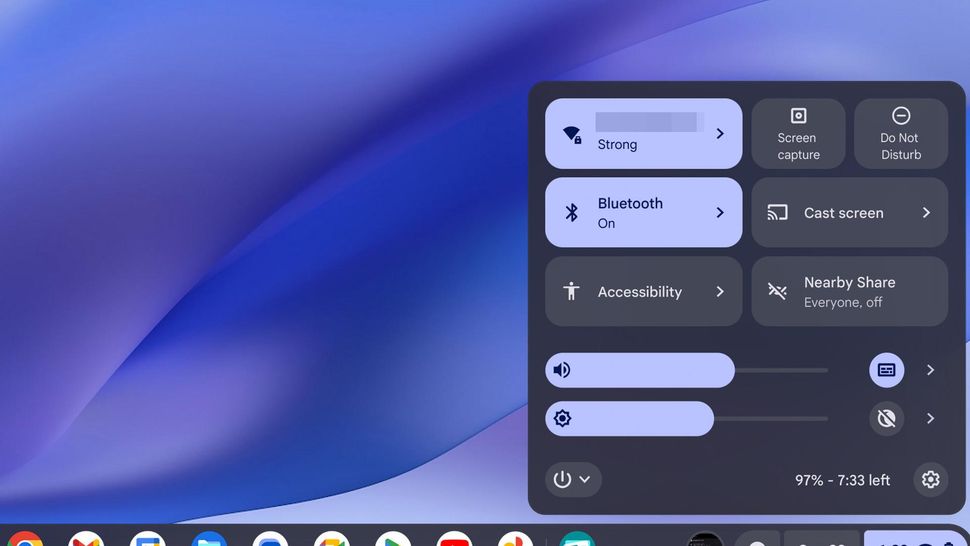 It's important to note that both the volume and brightness sliders are much larger than before, making it easier to drag them on a Chromebook's touchscreen. Next to them are two new tools. The top icon is for Audio. It's where you can tweak the input and output for the microphone port and speakers, respectively. It's also where you can activate Live Captions. Below that is for configuring the display. You can activate the Dark Theme on there or manually turn on the night light.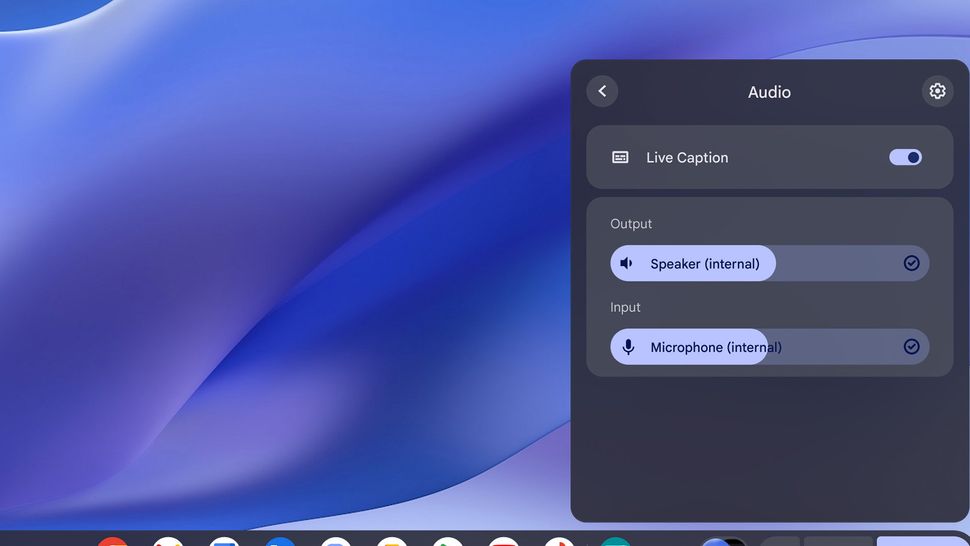 Dynamic coloring
Next, Dynamic Color theming is being implemented. This allows users to choose from "one of four accent colors" based on whatever wallpaper you have for a bit of extra flair. These also adapt to your laptop's light or dark theme. Or you can turn it off for "more basic neutral colors". The theming changes can be found by opening the Settings menu then clicking the Personalization section. Scroll down until you find "Set your wallpaper & style". It's right there.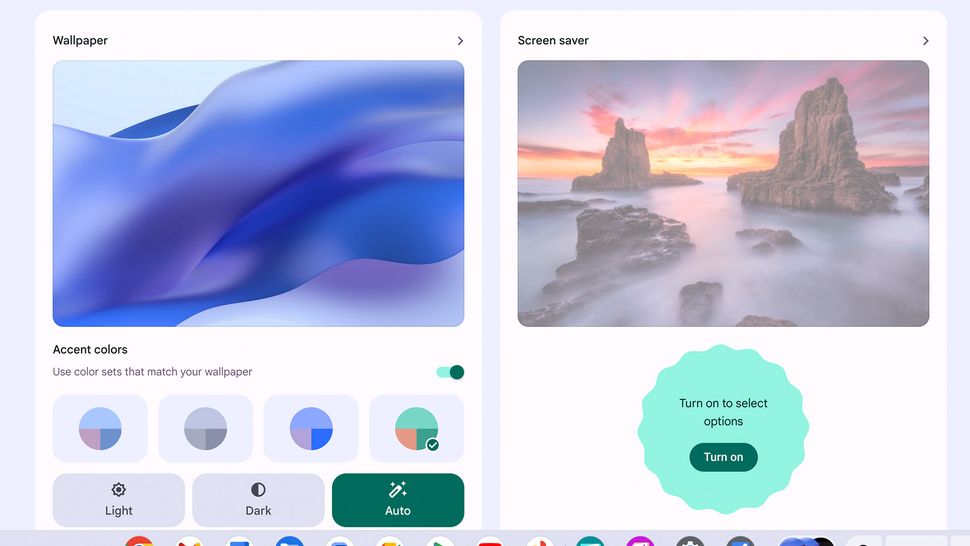 Speaking of colors, the company has upgraded its Accessibility menu by adding filters for people who are color blind. There's one for deuteranomaly to make greens stand out more. Conversely, there is a protanomaly filter to make reds more vibrant. Or you can remove all color from your Chromebook by activating the Grayscale filter.
There is one more addition in the update worth talking about and that is Adaptive Charging for power management. This slows charging speeds once the battery reaches 80 percent in order to help preserve its "health and ability to hold a charge over the lifetime of the device." 9To5Google states not every Chromebook will receive this tool when they get the patch, and we can verify that. While our laptop got the Material You redesign, Adaptive Charging was missing.
Availability
Other notable changes in ChromeOS 117 include several security fixes, "time-lapse video recording on the Camera app", and the ability to join video calls directly from the on-device calendar. 
It's unknown when the rollout will be complete. Google states not every Chromebook will be "immediately eligible" for the update, but eventually, they will. Be sure to keep an eye out for the patch once it arrives. You can install it by first launching the Settings menu and then selecting "About ChromeOS" at the bottom.
If you're looking to upgrade, we recommend checking out TechRadar's list of the best Chromebook for 2023. 
You might also like
Read the full article here