Ubisoft has revealed the PC requirements for Assassin's Creed Mirage ahead of the game's launch early next month.
The next mainline entry in the Assassin's Creed games series is only a few weeks away and to prepare for the release, the publisher has revealed the PC specs ahead of time in a new blog post.
Instead of having just minimum and recommended settings, Ubisoft has shared two further performance specs to target in 'enthusiast' and 'ultra'. Both of these detail more demanding hardware thus building a more complete picture and compensating for a wider variety of builds among its playerbase.
For players with a low to mid-range build and are worrying about performance, the minimum requirements confirm that the game supports much older graphics cards like the Nvidia GeForce GTX 1060 so those sporting such cards will be able to run the game steadily, albeit at low settings and at 30 FPS.
The Recommended level doesn't seem too demanding either, as Ubisoft suggests you should have at least an Nvidia GeForce GTX 1660 Ti or an AMD Radeon RX 5600 XT at the lowest, allowing you to hit 60 FPS on high settings. 
The more high-end specs jump up significantly, however, with the RTX 3080 and RX 6900 XT being the recommended GPUs for running the game on Ultra. Ubisoft previously mentioned that the game's frame rate is uncapped, allowing those with a more powerful build to take full advantage without sacrificing performance and visual quality.
The only slight eyebrow-raiser is Ubisoft referring to storage space only as 'SSD storage' – some folks still running older machines may well still be on HDDs too given that was a common companion component of those older CPUs and GPUs that Ubisoft has also listed. Also, 40GB is a surprisingly lean amount of space for a top-tier modern game – but we'll take it.
You can take a look at the full PC specs below in the official Ubisoft table graphic, but we've also typed them out below for your convenience.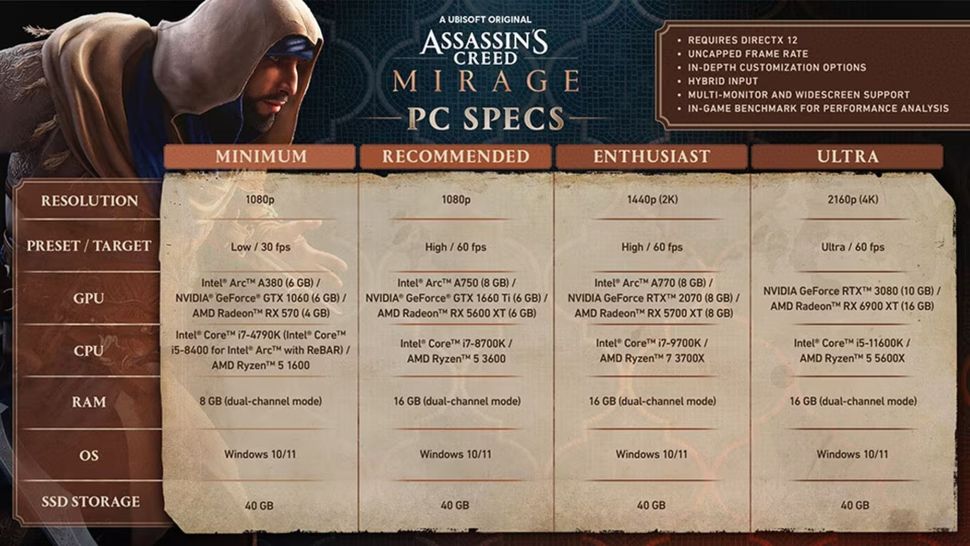 Minimum
Resolution – 1080p
Preset/Target – Low / 30 FPS
GPU – Intel Arc A380 6GB / NVIDIA GeForce GTX 1060 6GB / AMD Radeon RX 570 4GB
CPU – Intel Core i7-4790K (Intel Core i5-8400 for Intel Arc with ReBAR) / AMD Ryzen 5 1600
RAM – 8GB
OS – Windows 10/11
SSD Storage – 40 GB
Recommended
Resolution – 1080p
Preset/Target – High / 60 FPS
GPU – Intel Arc A750 8GB/NVIDIA GeForce GTX 1660 Ti 6GB/AMD Radeon RX 5600 XT 6GB
CPU – Intel Core i7-8700K/AMD Ryzen 5 3600
RAM – 16GB
OS – Windows 10/11
SSD Storage – 40 GB
Enthusiast
Resolution – 1440p 
Preset/Target – High / 60 FPS
GPU – Intel Arc A770 8GB/ NVIDIA GeForce RTX 2070 8GB/AMD Radeon RX 5700 XT 8GB
CPU – Intel Core i7-9700K/AMD Ryzen 7 3700X
RAM – 16GB
OS – Windows 10/11
SSD Storage – 40 GB
Ultra
Resolution – 2160p
Preset/Target – Ultra / 60FPS
GPU – NVIDIA GeForce 3080 10GB/AMD Radeon RX 6900 XT 16GB
CPU – Intel Core i5-11600K/AMD Ryzen 5 5600X
RAM – 16GB
OS – Windows 10/11
SSD Storage – 40 GB
Assassin's Creed Mirage is set to launch for PS5, Xbox Series X|S, PS4, Xbox One, and PC on October 5.
For more, here's our list of the best graphics cards of 2023, as well as the best PC games.
Read the full article here