Acer is expanding its series of glasses-free 3D products with a new 4K monitor. The 27-inch monitor announced Thursday differs from Acer's previous 3D designs with its desktop size and introduction of Acer's headphones-free spatial audio feature.
Like other glasses-free products, Acer's SpatialLabs View Pro 27 uses a lenticular lens and eye-tracking with an infrared (IR) camera to present a 3D view to users, without the clunky 3D glasses associated with yesterday's abandoned 3D TVs. Acer claims its eye-tracking infrared camera has 1280×480 resolution and runs at 60 frames per second. Eye-tracking purportedly works with indoor lighting as low as 10 lux. Only one person can experience 3D at a time, though.
Acer hasn't specified how close you have to be to use the monitor's 3D functions yet but says it works with up to 11.8-inch (30cm) movements across the X-axis or up and down the Y-axis, as well as 19.7-106.3 inches (50 to 270cm) across the Z-axis (or up to 59.1 inches/150cm with low lighting).
The lens is switchable, so that when you're not working with CAD files, you can use the monitor like a regular 2D 4K monitor.
While Acer has released 15.6-inch portable monitors and a gaming laptop with these capabilities already, the SpatialLabs View Pro 27 is its biggest glasses-free 3D attempt, literally, thanks to the 27-inch VA panel.
It's expected to come out in Q1, around the same time as Lenovo's first 3D monitor, the 27-inch 4K ThinkVision 27 3D Monitor. In September, Lenovo told me that its glasses-free 3D tech is proprietary. Acer, (as well as other OEMs in this space) built its 3D products with Dimenco's Simulated Reality platform.
3D audio
Acer is the second company to announce a 27-inch 3D monitor recently but the first to combine that with a 3D audio effect.
The SpatialLabs View Pro 27 has a prominent pair of 2.5 W speakers sticking out considerably from the monitor's southern left and right corners. You can find monitors with higher-wattage speakers and even with more speakers (Apple's Studio Display has six speakers). Still, Acer claims that by working with AI and head-tracking, audio from the SpatialLabs monitor's speakers will envelop users and make it sound like they're wearing headphones.
"The AI-powered sound innovation uses beamforming directional acoustic signal transmissions and head-tracking mechanisms to produce spatial audio projected from two upward-facing 2.5-watt speakers," Acer's announcement said.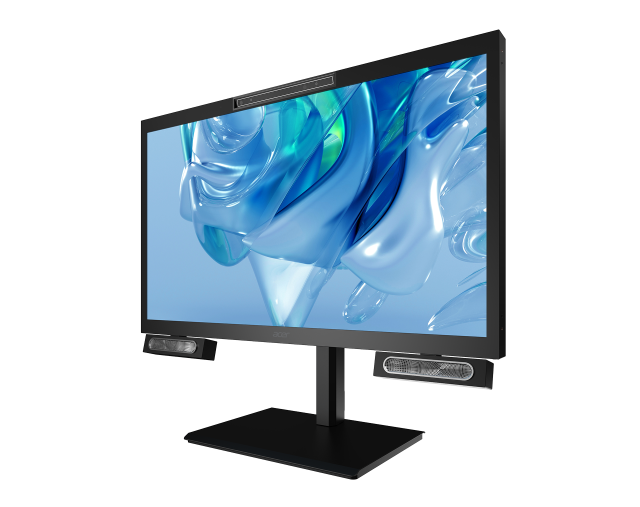 Audio has become an afterthought for most new monitors, with users frequently turning to separate speaker and soundbar setups for boosted computer audio. It's refreshing to see a new monitor attempt to go beyond the bare minimum.
Acer is making really big claims here, so it's possible the monitor is overpromising.
Acer didn't provide additional information about the monitor's "head-tracking" mechanisms, and it's likely that the feature uses the monitor's IR camera. Constantly having a camera on you, even for the sake of virtual surround sound, can be a privacy concern. Hopefully, Acer's camera includes a kill switch, like some other monitors with integrated cameras have.
It's also unclear how the monitor's 3D audio effects work with multiple people in the room.
Some of these concerns may be addressed next week when Acer demos the display at the Immerse Global Summit in Orlando, Florida.
Non-3D specs
Asus, with laptops, introduced glasses-free 3D to OLED, but Acer's desktop monitor uses a VA panel with a claimed 1,000:1 contrast, 400 nits' max brightness, 95 percent DCI-P3, and a 160Hz refresh rate. There's also AMD FreeSync Premium and Nvidia G-Sync Compatibility. Ports are HDMI 2.1, DisplayPort 2.1, a USB-C port at up to 5Gbps, and a pair of USB-A ports at up to 5Gbps.
For comparison, Lenovo's 27-inch 3D monitor will have an IPS panel and claims 1,000:1, 300 nits, and 99 percent DCI-P3 and Adobe RGB. Lenovo's monitor also has a more robust port selection (two HDMI 2.1, one DisplayPort 1.4, one USB-C port with up to 15 W power delivery, an upstream USB-C port with up to 100 W power delivery, four USB-A ports, RJ45, and a 3.5 mm jack).
2024 release
Acer's announcement said the SpatialLabs View Pro 27 targets creative professionals and offers a "3D canvas" for developers and others looking to make 3D experiences. For developers, Acer is including its SpatialLabs Experience Center Pro platform with apps like Acer's SpatialLabs Model Viewer, design software plug-ins, and compatibility with Unity, Unreal, and other engines.
Acer also sees the being monitor used in commercial spaces. In an email to Ars, Eric Ackerson, senior product marketing and brand manager at Acer, pointed to museums, auto dealerships, doctor's offices, theme parks, and jewelry stores as some prime examples. This seems limited, though, since the display's glasses-free 3D only works with one person at a time.
When asked where Acer's glasses-less 3D products have garnered the most interest thus far, Ackerson said:
"We're seeing significant interest in education and healthcare and are working hard to do more to educate the many potential customers and industries about our innovative SpatialLabs solutions and their benefits."
Acer said its monitor is scheduled to release in Q1 2024. The company hasn't disclosed minimum PC specs or pricing yet.
Read the full article here